So yes, our movie opens just after the Passover (and remember the painting of the Last Supper) in Bethlehem (if I'm not mistaken)...and we see Jesus praying vehemently in tears in what we know today as the Garden of Tears, otherwise known as Gethsemane. From there, we see how the Sanhedrin pays off Judas with thirty pieces of silver and plotted to have Jesus killed, Judas betraying his teacher with a kiss...chaos erupts in the garden and one soldier had his ear cut off - Jesus somehow gives him a new ear, leaving the man completely dumbfounded and in awe. What struck me was how Judas then realizes that he had betrayed an innocent man and how his guilt drove him insane, even to the point of throwing back those thirty pieces of silver to the Sanhedrin. A knot formed inside me as I watched Judas clutching his hands around his head, trying to drive his own demons out only to find himself sitting next to the rotting carcess of the donkey which had earlier in the week brought Jesus into Bethlehem majestically for the Passover. He hung himself, unable to bear the guilt and shame of his actions. Meanwhile, Jesus is brought to Pilate. Now Roman law dictates that only under the permission of the governor may a death penalty be given to any prisoner, Roman or otherwise. According to records and the Bible, Pilate was a man of good heart, just and fair. His wife had earlier warned him to free Jesus - it is my gut feeling that tells me perhaps this Roman officer's wife knew deep down inside who Jesus really was. But that day, Pilate was torn between condemning an innocent man (and the truth) or risking an uprising (which was caused by the Sanhedrin). By this time, the Jewish people have gone nuts. So in order to buy more time, Pilate transfers him to King Herod. King Herod is a dumbass - seriously dumb and childish. His courts are filled with people who laugh no better than hyenas and look no better than madmen. It was no surprise that Jesus was brought back to Pilate where finally, Pilate washes his hands off the matter. Jesus' life was exchanged for another - a mass murderer was freed - and he was brought to the cross for
. The rest is, as most would say, part of history. I'm sure I don't have to go into detail as to what happenened. The movie ends with an image of Jesus who has risen from the dead and the camera focusing on his pierced hands. Now for the faint-hearted, there are some parts where you would like to skip.
Like where Pilate orders Jesus punished before turning him to the people (and washing his hands). Jesus was brought to this small square with a group of Roman soldiers and officer looking on. He was stripped bare, leaving only a loin cloth, chained to a rock and beatened at first with rods. That left long streaks on his back and legs. Somehow he manages to stand despite the enormous pain, which lead to the next punishment - the whips. Now these whips are different. They are made from hide with tiny barb-like hooks and balls at the end, convenient for tearing off flesh and ripping apart the skin.
Scourging and how it's administered...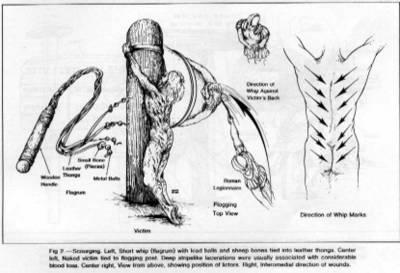 Imagine being whipped with it until your entire back is stripped off skin...then turned over and your belly and chest scourged again. The flesh on your belly and chest, by the way, is one of the softest as well. Jesus was whipped until he could no longer stand - his entire body stripped off skin and raw. Blood covered the floor of the square. He was mocked, given a course scarlet robe and made to wear a crown of thorns. Most people would say that he could have easily taken off those crown of thorns...but imagine this... You have not eaten, drank and have been beaten before being whipped until you bleed all over the place. Your body is in shock from the immense pain and loss of blood. Moreover, those crown of thorns are rings of nearly three inch long individual thorns which Roman soldiers pushed onto and down your head. If that isn't enough...I have not gotten to the part where Jesus in his state had to carry a 136kg cross two thirds of a mile to Golgotha, known as the Skull. Even while carrying the cross, he was whipped and imagine the pain of course cloth rubbing against raw skin. We are talking about more pain and more blood loss...and suffering. -.- Once reaching the Skull, he was stripped naked and his wrists nailed...not to mention his ankles. Nails were hammered in, damaging median nerves - causing A HELL OF A LOT OF PAIN! Pictures below will show you what exactly happens in a crucifixtion and they are obtained from this
site
(click to read it). I don't think I want to go on as to how and why Jesus finally died from all this suffering. Read the site...you'll find detailed medical information and what not (highly recommended that you do!).
Nailed to the cross at your wrists...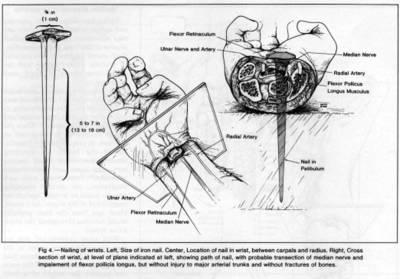 Nailed at your ankles...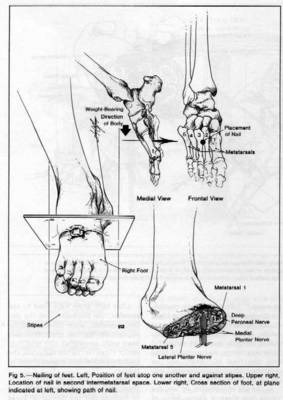 And we thought breathing was going to be easy...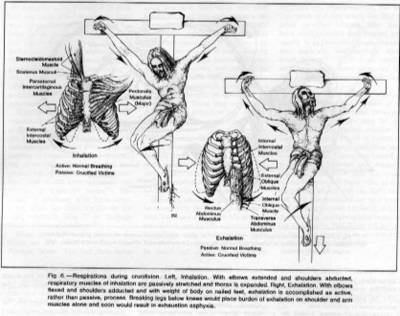 *takes a deep breath* I still find it hard to close my eyes and not hear the whipping, the jeering, the screams, the Hebrew/Latin words of "Why has thou forsaken me?". I find it hard to believe that a long time ago, what was once good was no longer alive just because many could not stand to let go of themselves and their fucking pride. I find it hard to believe that hearts can be so hard and cold at moments of intense pain like this.
And I found it hard to hold the tears back...
Yes, I cried.
I cried as I was reminded of how I once believed that an innocent man died needlessly for me.
I cried as I was reminded of the cruelty of mankind.
I cried as I was reminded of how it felt like to be abandoned at the hour of need by the one you love.
I cried as I was reminded of what it was like to feel pain, suffering, torment, betrayal, torture, hatred, anger, hunger, thirst and loneliness.
And finally, I shed teads as I was reminded of what hope, love, joy and happiness meant; of what religion brings to many of us; of life itself.
Passion of Christ - while being a religious movie - has many lessons that we can stand to learn from. It all depends on you. All in all, I would say that this movie is very different from all the movies that have ever been made about Jesus. If ever Mel Gibson was aiming to shock people into understanding a little bit more about the Christian faith and what Jesus had to go through during the crucifixtion, he did it with this one.
I don't know about you but I like this one and I'm giving it a 5 out of 5.