*Had to change my opening because I offended a few people in town. My apologies.

Short of 9/01/2004 11:43:00 PM|W|P|Mabel|W|P|...and it was well worth the wait. Seeing it in my hands brought back memories of what it meant to be enlightened, of what it meant to feel, of what it meant to have the power to achieve and do something for someone else apart from me...flipping through the pages reminded me of what it feels like to NOT be the average Malaysian and to be etching/placing my mark alongside the people who have made a difference in this lifetime and the next.
And here is a leaflet obtained from the fateful day - from the fateful exhibition that featured this man and countless of other photographers whom he worked with...their photographs, his words and the videos. Never will any of my Malaysian students ever see this stuff unless we - the lecturers - get them from external sources.
A picture of Robert Kennedy and his wife, Ethel, on their flight into California. He was assasinated the very next day - after this photograph was taken. Shot by Curt Gunther in 1968.

Reporting The World: John Pilger's Great Eyewitness Photographers Plucked from the introduction to the book, here are John Pilger's words...read them and feel the way I do when I still read them now - two years after first encountering this brilliant journalist.
This collection of photographs, selected from the Barbican exhibition, Reporting The World, is the realisation of a fond dream of mine. Almost from the day I went on the road as a newspaper correspondent in the 1960s, I worked with photographers. We were a team, often assigned to places of upheavel, but also to peaceful streets, the sinews of people's lives, to ask ordinary people to tell their extraordinary stories in words and pictures. Time and curiousity were allowed then, and generous space on the page was devoted to worlds far removed from London's media village; and not because of the importance of the images in a current geo-political game. This was a new kind of reportage, pioneered in post-war Britain by Picture Post, following Life and Look magazine, whose essays allowed pictures and words to complement each other and the meaning of both to speak to the reader.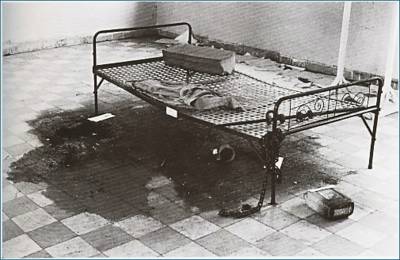 The Khmer Rouge Gestapo, known as 'S21', tortured to death more than 20,000 men, women and children at Tuol Sleng, a former school at Phnom Penh. People were mutilated on iron beds like this one, which was still surrounded by blood and tufts of hair when we found it. Shot by Eric Piper in 1979.
In the summer of 1979, Eric and I, with film director, David Munro, cameraman Gerry Pinches and sound recordist Steve Phillips, went to Cambodia in the wake of the Vietnamese overthrow of Pol Pot and the genocidal Khmer Rouge. In Phnom Penh we encountered a silence of the kind you never forget. It was as if the city had suffered a nuclear cataclysm that had spared on the buildings. Houses, flats, office blocks, schools and hotels stood empty and open, as they had been vacated four years earlier when the Khmer Rouge marched the occupants into the country side, many to their death. Personal possessions lay trampled on the front path, a tricycle crushed and rusted in the gutter, a pair of glasses on an open page. There was little electricity and no water safe to drink; bodies were still being found in wells. At the railway stations, trains stood empty at various stages of interrupted departure. Pieces of burned clothing fluttered on the platform. As they abandoned Phnom Penh, the Khmer Rouge had set fire to a carriage filled with wounded civilians.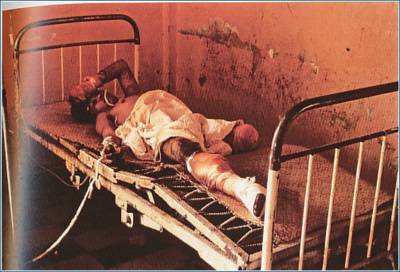 Hearn Boung, a young man who stepped on a land mine, lies in Battambang Hospital in western Cambodia. The hospital lacked almost everything, including blood. He died soon afterwards. Shot by Nic Dunlop in 1991.
In our first hours there, neither Eric nor Gerry took a single frame. Such was our incredulity, or shock. We had no sense of people, of even the remmants of a population; the few human shapes we glimpsed seemed incoherent images, detached from the city itself. Only when we pursued several and watched them forage, did we realise that they were children. In a crumbling Esso petrol station, an old woman and three emaciated infants squatted around a pot containing a mixture of roots and leaves, which bubbled over a fire fuelled by paper money, hundreds of snapping, crackling brand new notes. Eric's pictures of this morbid irony followed an assignment of two months earlier, when he and I had followed Pope John Paul on his return to Poland, and had seen Auschwitz (Nazi death camps for Jews, for those of you who aren't familiar with the history of the Holocause - tens of thousands died there...) for the first time. Now, we saw it again in Souther East Asia: a scaled-down version called Tuol Sleng, where a Khmer Rouge gestapo, 'S21', had systematically murdered thousands. People were mutilated on iron beds and we found their blood and tufts of hair still on the floor. Eric's picture of one of the beds still chills me. We found eight survivors, including four children and a one-month old baby.
It doesn't just stop with Cambodia. John Pilger and his photographer-companions go on to travel around Asia and South America and even the USA where he write on politics in Indonesia, Phillippines, Vietnam, Nicaragua, South Africa...the list goes on.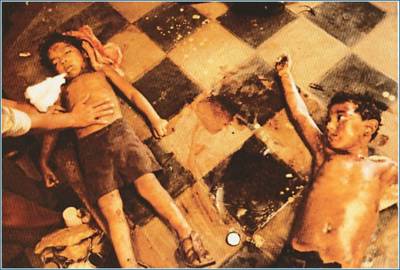 In Nicaragua, two children rescued from a house destroyed by a 1000-pound bomb dropped by the Nicaraguan dictator Somoza on his own people during the Sandinista uprising. They died soon afterwards. Shot by Susan Meiselas in 1979.
The courage implicit in the working lives of great photographers is sometimes confused with the nihilistic bravado for which some of their war-chasing colleagues are famous for. You would never know from their almost diffident way that Phillip Jones Griffiths and Steve Cox had beckoned danger with their lens. This is also true of Susan Meiselas, like Phillip, a celebrated Magnum photographer, with whom I worked in Nicaragua. Susan documented the popular uprising, led by the Sandinistas, that overthew the Somoza tyranny in 1979. She photographed frequently under fire, yet in her pictures there is an understanding of the endurance of civilians, even gentleness in her images of violence. Her picture of two children lying dying, having been rescued from their bombed home, is grievous, yet you do not look away; you ask why?
Edith Ventner, a Johannesburg socialite, at her couturier's. Like many Souther African whites, she says she never supported apartheid. The necklace she is wearing is worth 100,000 pounds. In the 'new' South Africa, the white five per cent of the population still control more than eighty per cent of the nation's wealth. Shot by Keith Bernstein in 1997.

I think I should stop now. Somehow, while preparing this material - it took me a good one hour to type everything out - I have gone from being rather calm and neutral to extremely depressed and disheartened. Forgive my depressive babble but it is at times like this which I feel that it is best that I should either be dead or apathatic. |W|P|109402204110199005|W|P|Finally it is here...|W|P|meiteoh@gmail.com3/01/2006 09:50:00 AM|W|P|
I wouldnt like it if it happened to me, but we cant live for ever, and we cant all live at the same time.Living with your heart on your sleeve will only make you a bitter person over time. |W|P|If we only died of old age, we would be in a mess in only a few short years.Death and war is a tool of population controle,People have to die so others can live.Or would some people rather the world be like New York or China, standing room only? It is unfortunate that our planet isnt bigger and our people are not all saints.But who would be willing to share their home and money and clothes with 15 or 20 other people everyday and have 30 more living in their yard?